Cruise the Mediterranean – from Barcelona to Santorini to Venice
Seek your own history-making vacation
NEW FOR 2018-2019
Explore Old World wonders on all new 2018-2019 Europe itineraries now ready to book. Marvel at the Mediterranean onboard the new Symphony of the SeasSM as she headlines Europe's Oasis Class return. Embark on a 7-night Northern Europe expedition onboard Brilliance of the Seas® – a Radiance class favorite. Lose yourself in timeless towns of Cinque Terre on a12-night adventure onboard Vision of the Seas® from Barcelona. Or explore ancient empires and captivating classics on returning favorite ships across the Mediterranean.
Mediterranean Cruises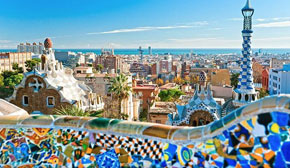 Stand in awe before Spanish landmarks, Italian landscapes, and French icons that echo the history-changing moments that once happened there. Climb up inside the spires of Gaudí's Sagrada Familia Cathedral in Barcelona, whisper in awe in the Sistine Chapel, and discover the glamor of the French Riviera in Monte Carlo. Explore the Western Mediterranean cities onboard Freedom of the Seas® where myth and history converge on your next vacation.
Some of the various Ports of Call include:
Welcome: Barcelona, Spain
Welcome aboard Vision of the Seas
A top European center for art, architecture, design and cuisine, this stylish city has its own language and culture. The soul of old Barcelona is its Gothic Quarter; outside the medieval district, discover iconic landmarks and more.
Port of Call: Nice (Villefranche), France
Nice is a cosmopolitan city where you'll find a colorful Old Town, elegant Belle Epoque architecture, French Riviera chic and much more. The ship anchors just outside city limits, in the deep blue bay of picturesque Villefranche-sur-Mer
Port of Call: Florence/Pisa (Livorno), Italy
Livorno is your gateway to beauty of Tuscany, including spectacular Florence, birthplace of the Renaissance and a city of priceless cultural treasures, and Pisa, whose landmark tower is a legacy of its days as a medieval maritime power.


Port of Call: Rome (Civitavecchia), Italy
From the monuments of the ancient empire to the pursuit of la dolce vita, the Eternal City is an unrivaled open-air museum and a lively modern metropolis. The tiny enclave of Vatican City is home to sacred sites and priceless art.
Port of Call: Naples (Salerno), Italy
Salerno has a graceful waterfront promenade and lively centro historico of shops, cafes and medieval churches. It is also a gateway to the Amalfi Coast, whose jewel-like towns seem to cling to dramatic cliffs overlooking cobalt seas.

Port of Call: Venice, Italy
Discover the magic and mystery of Venice, a city built entirely on water. Along the iconic Piazza San Marco, elaborate buildings attest to its splendor and elegance. But the city's character lies along crooked calli and across little bridges.

Port of Call: Kotor, Montenegro
Located where the Balkans meet the Adriatic, Kotor sits on a deep bay surrounded by soaring cliffs. A hilltop fortress stands guard over the walled medieval Old Town, where you'll find small piazzas, elegant palazzos, lively cafes and shops.
Port of Call: Athens (Piraeus), Greece
Discover the splendors of Greece's epic past in the ancient city that is also the capital of a modern nation. The hilltop Acropolis has overlooked Athens for 2,500 years. Below, a park-like promenade links many iconic sights.

Port of Call: Santorini, Greece
No other Greek island is more famous for its romantic setting, mythic beauty, and volcanic scenery. Santorini enchants with a deep blue bay, high cliffs, black and red sand beaches, and white-washed towns perched on the crater rim.

Port of Call: Valletta, Malta
In 1530 Malta was given to the Knights Hospitallers, who built a Christian stronghold and the capital, Valletta, behind whose fortifications you'll find Renaissance splendors that seem to be untouched by time.
CRUISE RESTAURANTS & DINING
TAKE YOUR TASTE BUDS ON A WORLD TOUR
Indulge in la dolce vita at Chef Jamie Oliver's acclaimed eatery, Jaime's Italian. Take a flavor-filled journey to the exotic Far East at Izumi. Find your element among the elaborate entrees at Wonderland Imaginative Cuisine. Or embark on a globetrotting gourmet adventure at Windjammer Marketplace. Set sail for delectable, with world class complimentary cruise dining plus classic and avant-garde specialty onboard cruise restaurants— all with satisfying selections for the foodie and the finicky.
ONBOARD ACTIVITIES & ENTERTAINMENT

INCREDIBLE IS ON THE ROYAL CARIBBEAN SHIPS! 
Whatever thrills you seek, you'll find all sorts of ways to fill your days onboard Royal Caribbean®. Each day and night brings something new to do, see and explore. From the robot mixologists at Bionic Bar® to the FlowRider® surf simulators, and the tallest slide at sea, Ultimate Abyss℠, to hit Broadway musicals like Grease. And with the award-winning Adventure Ocean® youth program, kids and teens will have a blast— plus parents can get a little time of their own. The hardest part is deciding where to start.
WORLD-CLASS SHOWS ON OUR CRUISES THAT WOW ON STAGE 
Royal Caribbean International® sets the cruise industry standard with dazzling, full-scale productions, every night on every cruise – all included in your fare. We're the only cruise line offering awe-inspiring Tony Award®-winning Broadway musicals, as well as ice skating, dive shows and original productions with a live orchestra, sweeping lights, intricate costuming and incredible talent culled from across the globe.
Dancing queens, your ship has come in. Broadway's global smash hit for over 10 years MAMMA MIA! comes to Allure of the Seas®. Over 50 million have seen it on land, and now for the first time, MAMMA MIA! takes to the sea with a repertoire of ABBA's greatest hits. You can dance, you can jive – only on Royal Caribbean.
The spectacular Olivier Award-winning musical phenomenon WE WILL ROCK YOU, rocked over 6.5 million people in a record-breaking 12 years at London's Dominion Theatre. Written by legendary comedian and author Ben Elton and with a score of killer Queen tunes such as Radio Ga Ga, I Want to Break Free, Bohemian Rhapsody and of course We Will Rock You, it's the champion of all musicals.

CATS
Cats, one of the world's best known and best loved musicals, is about to make another world debut. This time onboard Oasis of the Seas®. The 1983 Tony Award® winner opened in London's West End in 1981 and has since been presented in over 20 countries and about 250 cities. And now it joins Royal Caribbean's other Broadway favorites at sea.
Slick back your hair and pack your poodle skirts. Summer lovin' is in the air on Harmony of the SeasSM and come July 2016 on Independence of the Seas as well, with Broadway's hit Musical, Grease coming to the high seas for the first time ever. You'll follow the romantic twists and turns of Sandy and Danny, two lovebirds who navigate the tricky social waters of their high school while keeping their reputations – and relationship -together.
Mix big hair, big dreams and all the right moves and you've got one of the biggest Broadway hits of our time – Hairspray. Winner of eight Tony Awards and a record-breaking 11 Laurence Olivier Award nominations, this feel good favorite returns to Royal Caribbean in a brand new, bigger-than-ever production. Break out your bobby socks, because Tracy Turnblad won't stop until she gets her spot at dancing on the Corny Collins Show. But TV stardom is just the beginning. Hairspray is back, and you can't stop the beat.